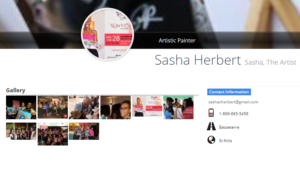 Sasha Herbert's Biography
It feels like it was just yesterday when I decided to officially launch my
personal brand – Sasha, The Artist. That sense of fear from being met with
new ventures, challenges and different responsibilities on the 25th day of
December, 2015, is still very close to me; but, they are the reason of who I
am today.
I am Sasha Herbert, the 22 year old Entrepreneur behind Sasha, The Artist
residing in the beautiful federation of St. Kitts & Nevis. It is from the
bountiful amounts of exposure from entering and dominating local and
regional art competitions many years ago that has helped developed my
personal brand. Recognition such as being selected as one of St. Kitts &
Nevis' 25 Most Remarkable Teens in 2012, being given the opportunity to
mount an educational monument/tribute to Fitzroy Bryant painting at the
Clarence Fitzroy Bryant College in 2015 and being invited to showcase
many of my art pieces at local exhibitions are all reasons why Sasha, The
Artist has gained so much credibility from inception.
It all began with the individuals, businesses and organisations that turned
to me to create their company's logos, to beautify their business places
with murals and to create everlasting memories for themselves and loved
ones with personalized paintings. That gave me the courage to partake in
Spice Mill Restaurant's Spice Fest in 2016 as a vendor displaying and
selling some of my very own Sasha, The Artist branded paintings and
prints.
It is from the overwhelming support that I knew expanding Sasha, The
Artist would be bright. For almost two years after my its inception, I
researched, planned and developed Paint & Sip with Sasha, The Artist.
Stay tuned, cause the journey has just begun!
Paint & Sip with Sasha, The Artist offers a unique experience to those
seeking entertainment in St. Kitts & Nevis. As the host, it is my duty to
inspire the guests to unlock their creative side through acrylic
painting, all while they get to sip on the night's featured beverage,
while mingling with family and friends and even meeting new people!
Paint & Sip with Sasha, The Artist hosted its first event on February
28th 2017 and has since hosted several events both public and
private at different bars and restaurants across the federation.
https://skncir.gov.kn/view/sasha-the-artis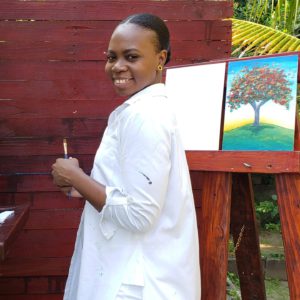 Contact Information
sashacherbert@gmail.com
1-869-665-5458
Basseterre
St Kitts
Social Stream