Dear Stakehol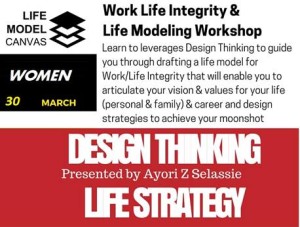 ders,
A pleasant Easter. It is my pleasure to announce a workshop for Women Professionals and Entreprenuers on 30th of March 2016.
In collaboration with the St. Kitts and Nevis Chamber of Industry and Commerce, InnovatetheNext through Quintessence Consulting Inc. is pleased to invite all Women Founders, CEOs, and Aspiring
Women Entrepreneurs to a FREE, half day workshop entitled "Life by Design" : Design Thinking and Life Strategy delivered by the Creator of the Lifemodel Canvas, Ayori Z. Selassie all the way from Silicon Valley.
Ayori is a serial social entrepreneur and professional venture design specialist willing to share some key insights to help you craft your life's plan which is really a pre-requisite for re-designing your business for growth. You may visit her work on the Life Model Canvas on
http://www.lifemodelcanvas.org/ and you can connect with her on Linkedin @https://www.linkedin.com/in/randomgirl
The Agenda for the half day workshop is as follows;
"LIFE BY DESIGN" AGENDA
09:00am – Registration, Welcome & Introductions
09:30am – Values Definition
10:30am – Moonshot Thinking (Hands on & Interactive)
15 mins – Networking Break
10:45m – Introduction to Life Modeling, Life Strategy & the Life Model Canvas
11:45pm – Design Thinking for Life and Strategic Thinking
12:00pm – Mindfulness & Gratitude Exercise
Venue: The St. Kitts and Nevis Chamber of Industry and Commerce
Time : 9:00am – 12:00pm
To register, please complete the following form: APPLY NOW – WOMEN – 30th MARCH 2016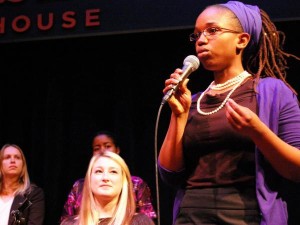 ABOUT AYORI SELASSIE
Ayori Selassie, Creator of the Lifemodel Canvas based in Silicon Valley, California.
(Photo Link: http://wemu.org/post/african-americans-tech-how-get-black-steve-jobs#stream/0)
Ayori is a passionate speaker and advocate for using technology to address social problems such as poverty, illness and intolerance. She serves as an advisor to Startups & Enterprise tech leverages a large network of influential leaders in tech, women and underrepresented ethnic groups on the convergence of culture, technology and the startup economy. She is a self taught software developer since age 11 and first founder at age 16.
Selassie leverages over 17 years of technology and consulting experience to serve as a trusted adviser for Salesforce's customers. For the past 8+ years at Salesforce she has contributed to the success of Fortune 500 companies, top emerging businesses and non-profits by aiding in data acquisition, management and analytics strategy for Mobile & Internet of Things. She also founded and serves as President of Boldforce which is an Employee Resource Group at Salesforce where she leads a charter to drive business results through diversity, inclusion & philanthropy. In support of investing in entrepreneurs she founded Pitch Mixer Entrepreneur Forum & strategically contributed to the success of startups reaching valuations of up to $56 Million.
ORGANIZER:
Ms. Telojo Valerie Onu, CEC, MAS eGovernance
Quintessence Consulting Inc.| Managing Director
InnovatetheNext | Founder
Unit C20 Sands Complex | Basseterre | St. Kitts and Nevis , W.I
( Tel: +1869-660-0535
* Email: tonu@qconsultinc.com | tellyonu@gmail.com
Private Venture Network – www.prohausvc