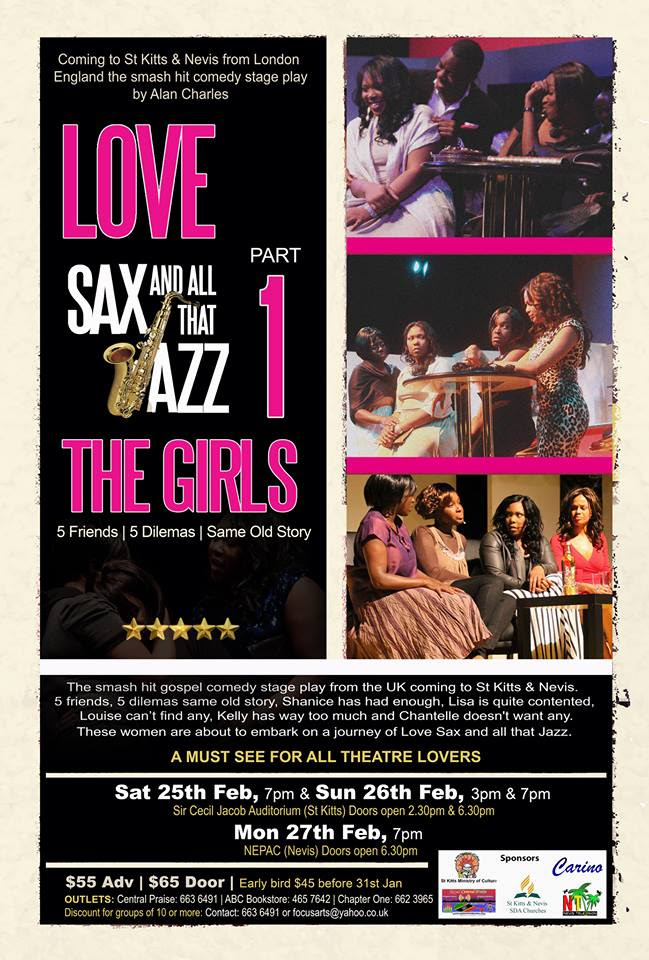 The hit UK gospel comedy stage play "Love Sax and all that Jazz" is setting it sail towards St Kitts. The show which has inspired and uplifted audience in the region including Barbados, St Vincent, Trinidad and Tobago will be on the island in February 2017.
About the play
5 friends, 5 dilemas same old story Shanice has had enough, Lisa is quite contented, Louise can't find any, Kelly has way too much and Chantelle doesn't want any. These women are about to embark on a journey of Love Sax and all that Jazz
Love Sax and all that Jazz is a gospel musical comedy stage play written by international poet and playwright Alan Charles. The show addresses various aspects of the love relationship through the eyes and experiences of five female friends as they pertain to Love Sex and all that Drama. Based on Christian principles the play explores the themes of singleness, men shortage, abuse, betrayal and infidelity while offering sound advice on how to strengthen and maintain a marriage. The play will make you laugh, cry, shout, chuckle and scream all that same time. The story of friends and relationships is dealt with through songs, drama, comedy and the spoken word. The production is thought-provoking, humorous and one that inspired and uplifted the whole family.
About the company
Focus Arts Promotions is a Theatre and Events Company that specialize in wholesome inspiring entertainment. Our motto is proclaiming the gospel, promoting the talent and perfecting the arts. We are committed to educate, empower, entertain and impacting society through the arts. We have been working in the arts for the last 15 years. We conduct workshops, provide training, undertake stage performances and work in partnership with other organizations in the areas of music, poetry and theatre.
Through our efforts individuals are given the opportunity to learn, develop and showcase their artistic talents and skills, whilst target audiences get the chance to be involved as spectators, participants or investors. We consider the arts as an effective tool in spreading the gospel and endeavour to make a positive contribution by utilizing the creative arts.
About the Writer
Focus Arts Promotions is headed by UK born poet and playwright Alan Charles. He is a gifted and talented individual who also wears the hats of UK MOBO award nominee gospel artiste and event's organizer. Alan uses his God giving talent to inspire and uplift his audiences. His style of writing is appealing to all class of people. His art form has taken him afield as far as North America, Africa, the Caribbean and Europe. Alan has recorded two gospel albums Da Plan (2001) & Strength ah mi life (2006) which was produced by Sherwin Gardner.
The show which will be made up of cast members from UK, Trinidad and St Kitts and Nevis will be showing on the following date:
Date: Sat 25th February 2017
Venue: Sir Cecil Jacob Auditorium
Times: 7pm – doors 6.30pm
Adm: $55 Adv – $65 at the door | Early Bird $45 before 14th Feb 2017
$5 Group discount for 10 or more
Date: Sun 26th February 2017 (two shows Matinee & Evening)
Venue: Sir Cecil Jacob Auditorium
Times: 3pm & 7pm – doors 2.30pm & 6.30pm
Date: Mon 27th February 2017
Venue: Nevis Performing Arts Centre (NEPAC)
Times: 7pm – doors 6.30pm
Adm: $55 Adv – $65 at the door | Early Bird $45 before 14th Feb 2017
$5 Group discount for 10 or more
Adm: Matinee $50 Adv – $60 at the door | Early Bird $40 before 14th Feb 2017
$5 Group discount for 10 or more
Evening; $55 Adv – $65 at the door | Early Bird $45 before 14th Feb 2017
$5 Group discount for 10 or more
Outlets:
Outlets central Praise: 663 6491 | ABC Bookstore: 465 7642 | Chapter One: 662 3965
More information: focusarts@yahoo.co.uk