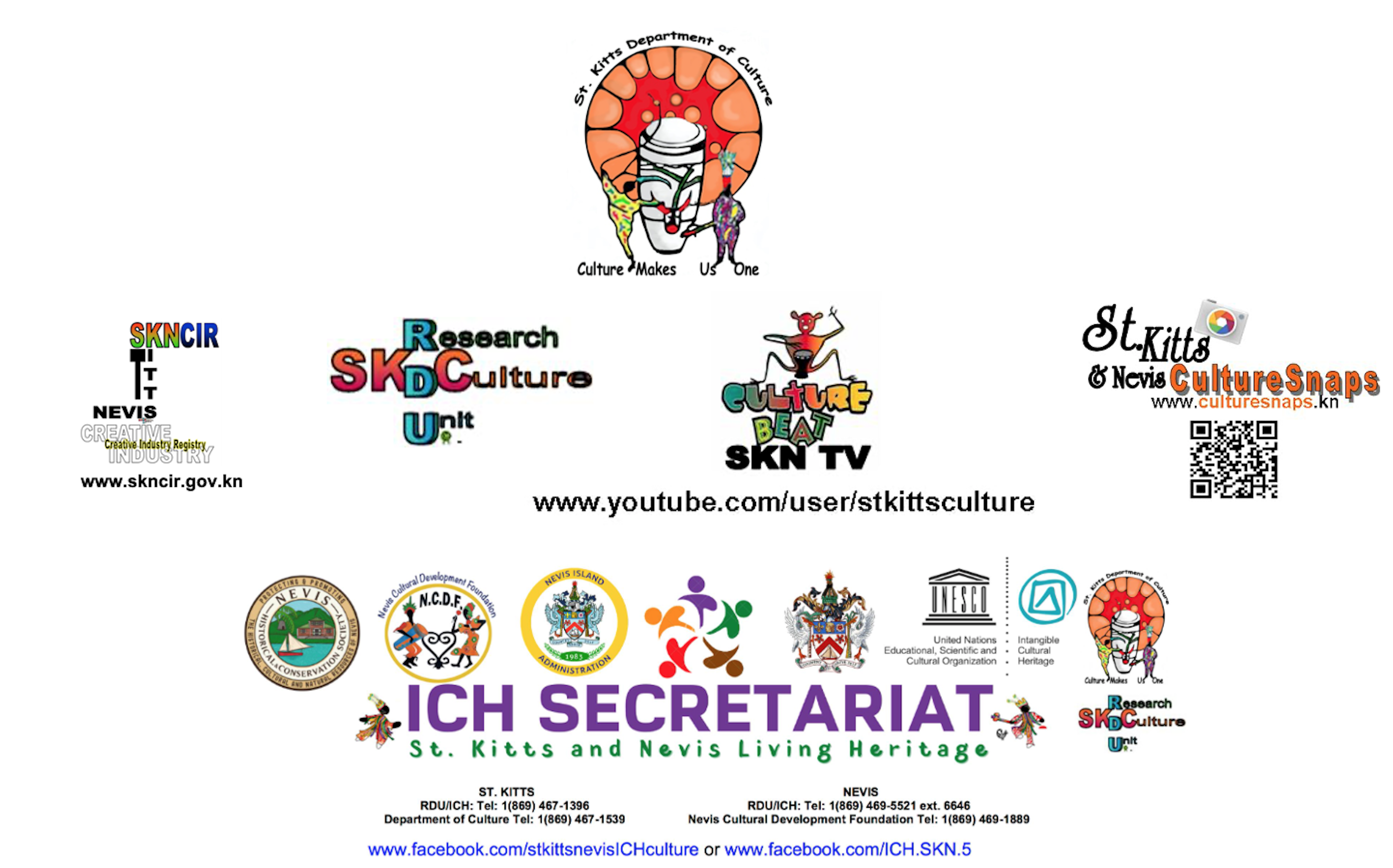 MISSION
The Department of Culture was established in 1995 to utilize culture as a vehicle for generating awareness of the social, economic and natural environment through protection, enhancement, preservation and conservation to facilitate interaction towards achieving sustainability.
St. Kitts Department of Culture Services:
St. Kitts Department of Culture staff specializes in the following disciplines: music, dance, drumming, research and documentation. Outreach programmes that involve training workshops are created to engage members of the community in order to transfer traditional knowledge, customs, and skills to children, and young adults safeguarding intangible cultural heritage (ICH) for future generations.
Accreditation & Skills Certification of Artists, Cultural Technicians, etc…
Entertainment & Creative Industry Tax Concessions
Cultural Events Management & Coordination
Community Festivals Technical/Financial Assistance
Training Workshops; Dance, Folklore, Drumming, Music, Research & Documentation
Artist Skills Development Workshops
Folklore Groups Management
Intangible Heritage Promotion & Preservation
Intangible/Tangible Heritage Resource Library
School Training Programs: Drumming, Music, String Instrument, recorders, fife etc…
Research and Documentation Unit (RDU)
RDU conducts research on the creative and cultural industry, documents St. Kitts and Nevis Intangible Culture Heritage (ICH) traditions, and provides a resource of information on culture that will contribute to future safeguarding initiatives.
SKNCIR (St. Kitts Nevis Creative Industry Registry)
The St. Kitts Nevis Creative Industry Registry (SKNCIR) is a searchable, on-line Artist Directory that promotes members skills, services, and products to the public. www.skncir.gov.kn
Intangible Cultural Heritage (ICH) Secretariat St. Kitts Living Heritage
The "ICH Secretariat – St. Kitts Living Heritage" provides administrative support to communities safeguarding St. Kitts ICH, informs communities about financial opportunities for safeguarding initiatives, dialogue with communities to develop ICH safeguarding policy, provide training opportunities to build ICH safeguarding capacity in St. Kitts Communities, and disseminates information to the public about the progress of safeguarding activities.